Built For The Send
Black Diamond: Climbing Gear & Apparel for Athletes & Adventurers
Built by passionate skiers and climbers, Black Diamond constantly pushes to make the best gear possible for their worldwide family of like-minded individuals. Black Diamond draws its roots from the late 1950s when climber Yvon Chouinard began selling hand-forged climbing equipment from the back of his car in Yosemite Valley. Made from a backyard anvil and hammer, Chouinards equipment gained an early reputation for quality and great design. From these humble beginnings grew Black Diamond, a company which shares the passion and dedication of its founder.
Today Black Diamond sets the standards for gear design, producing some of the best skiing and climbing equipment available anywhere. Their incredible success is easily attributed to their amazing team of people, who not only avidly use their equipment, but live for climbing and skiing. This company of users and dreamers are constantly pushing to create meaningful innovations and strides in safety.
Our own group of climbers and skiers at OutlandUSA.com place our trust and confidence in every piece of Black Diamond gear, knowing that they adhere to the highest quality standards. Black Diamond gear is designed to keep you safe and comfortable, even in a pinch. Make sure to read our FAQ below to learn more.

We'll See You Out There
A short lifestyle piece about Black Diamond and the people who love the brand.
Questions & Tips
Q: Is it okay to use carabiners that have been dropped?

Unfortunately, the only way to know if dropped carabiners are fit for use is to test them to their breaking point. This doesnt do you much good, now does it? It's best to inspect dropped gear for dings and significant trauma. If only light scratching is visible and gate action is still good, there is a good chance it is fit for usage. Remember, only you know what your gear has been through and if there is any doubt, it's best to retire the gear rather than take a risk.
Q: How do I sharpen my ice picks?

Get yourself a round 1/8 inch chainsaw file and a good ski-tuning file. Have a good pick on hand to use as a reference. Don't use an electric power grinder, as they can overheat the pick and ruin the temper.

File the pick end first, trying to restore the original bevel angle, while not making a half moon shape out of the tip. Make sure you don't make the tip angle too steep as it will be very fragile; if it isn't steep enough, your placements won't be as secure. File the flat hook on the bottom, stroking outward from you.

Repair damaged teeth using the chainsaw file. Use the flat side of the chainsaw file to return the original bevel of about 45 degrees, but not on the first tooth. Go slow, and use the reference pick, as filing off too much is worse than filing too little. The pick will need to be retired when you start filing past the first 3/8 inch tooth.
Q: How do I trim my skins?

Click

for downloadable instructions.
Black Diamond Warranty
For non-warranty exchanges and returns, please see our policy here.

BLACK DIAMOND WARRANTY POLICY
Black Diamond will cover all material or manufacturer defects for the time periods outlined below. This does not include normal wear and tear, user modifications, misuse, or accidental damage.
---
| Products/Catagory | Warranty Period (from date of purchase) |
| --- | --- |
| Lighting Products | 3 Years |
| Apparel/Soft Goods (Packs and Gloves) | Practical Product Lifetime |
| Footwear | 1 Year |
| Jetforce Packs (2019* Models and on) | 3 years for the pack, 1 year for li-Ion Battery |
| Pieps and Fritschi Products | Subject to respective policies: Pieps |
| All other Products | 1 Year |
*Jetforce Pro and Pieps Jetforce BT
For the time period specified above following purchase, unless otherwise indicated by law, we will warrant to the original retail buyer only that our products are free from defects in material and workmanship as originally sold. If you receive a defective product, return it to us and we will replace it subject to the following conditions: We do not warrant products which show normal wear and tear or that have been used or maintained improperly, modified or altered, or damaged in any manner. Any products or categories not listed are subject to a 1-year limited warranty.
If you have an item that requires warranty, a claim can be submitted by clicking the button below. In some cases, we require that the defective product be returned to us as part of the warranty process. In these instances, shipping to Black Diamond will be at the buyers expense (return shipping covered). Black Diamond reserves the right to determine the cause of damage, and the resolution of each warranty claim, as well as to request proof of purchase for any claim.
WARRANTY SERVICE FAQ
What is a "defective" product?

A product is considered defective if it does not meet its performance, manufacturing, or design specifications. An example would be a backpack buckle that comes undone while under a normal load. This does not include issues such as fit or sizing, or damage caused by neglect or misuse. See below for a list of exclusions.
What is the practical product lifetime for apparel and soft goods?

The lifetime of apparel can be highly variable and depends on several factors. When properly cared for, your Black Diamond apparel can last many years; however, this does not mean it is impervious to damage or wear. Keep in mind that Black Diamond products are designed for use in extreme environments, where rock faces, tree branches, and harsh sun could all damage or contribute to the wear of the product. Someone who climbs or skis five days a week should expect that they will wear out their equipment at a significantly higher rate than a less frequent user. Please remember that this warranty is for manufacturer defects and does not cover wear-and-tear or accidental damage. Using Black Diamond products in a professional or educational setting can greatly reduce the expected lifespan of the product. Black Diamond does not give or imply an expected lifetime for any apparel or footwear. Acceptable wear-and-tear, as well as product life span, will be determined at Black Diamonds discretion. See below for a list of damages not covered by warranty.
What damages are not covered by warranty?

Fading colors, logos and markings, due to use

Cuts, burns, abrasions, or tears

Packed out insulation

Poor Fit

Items bought used

Product that has been modified (such as the use of Quiver Killers or other binding inserts)

Apparel that has been altered, tailored, or otherwise modified by an entity other than Black Diamond

Accidental damage

Loss of waterproof coatings or treatments

Dulling of points (such as on crampons or ice axes)

Neglect or improper care for your product

Cosmetic damages that do not affect the products functionality

A replacement item does not constitute a new warranty period. Replacements are to ensure product satisfaction through the remainder of the original warranty period
Will my product be replaced or repaired?

Black Diamond will first attempt to repair your product. If a repair is not possible, or not cost effective, then replacement will be considered. Products that are out of stock or discontinued will be replaced with the closest equivalent. Repairs are made in order to restore an item to the original functionality and may not result in a factory appearance. Original products that are replaced through warranty will not be returned.
Do I need to send my product in?

Our Service Center Specialists will let you know if your product needs to be sent in. Shipping to Black Diamond will be at your own expense.
How long will it take to get my gear back?

Service time can vary depending on the solution that is necessary. Typical service time can be as little as 1 week or up to 6 weeks for some cases. This time frame depends on the solution needed to resolve the case.
Are my cam triggers a warranty claim or should I pay for the re-trigger service?

Due to the highly variable usage and wear that a cam can face, cam trigger replacements will only be provided as a warranty service with a proof of purchase within one calendar year. If your cam is over a year old, trigger replacements can be bought as a service or DIY kits can be purchased for most cam models.
How do I contact Warranty about my claim?

When you submit a claim, a service center representative will reach out to you and keep you updated on your claim. You can email them additional questions or information about your claim throughout the process.
Can I get replacement parts if my product is outside of warranty?

Spare parts can be found for sale on our website. Due to practical limitations, Black Diamond only stocks select components for current products that we think are likely to need replacement within the products lifetime. Parts for older product will remain available until inventory is depleted.
How do I submit claims if I am outside of North America?

Our network of distributors handles warranty claims in other regions. You can reach out to your local dealer to find out how to proceed; or submit a claim here and it will be forwarded to the distributor in your region.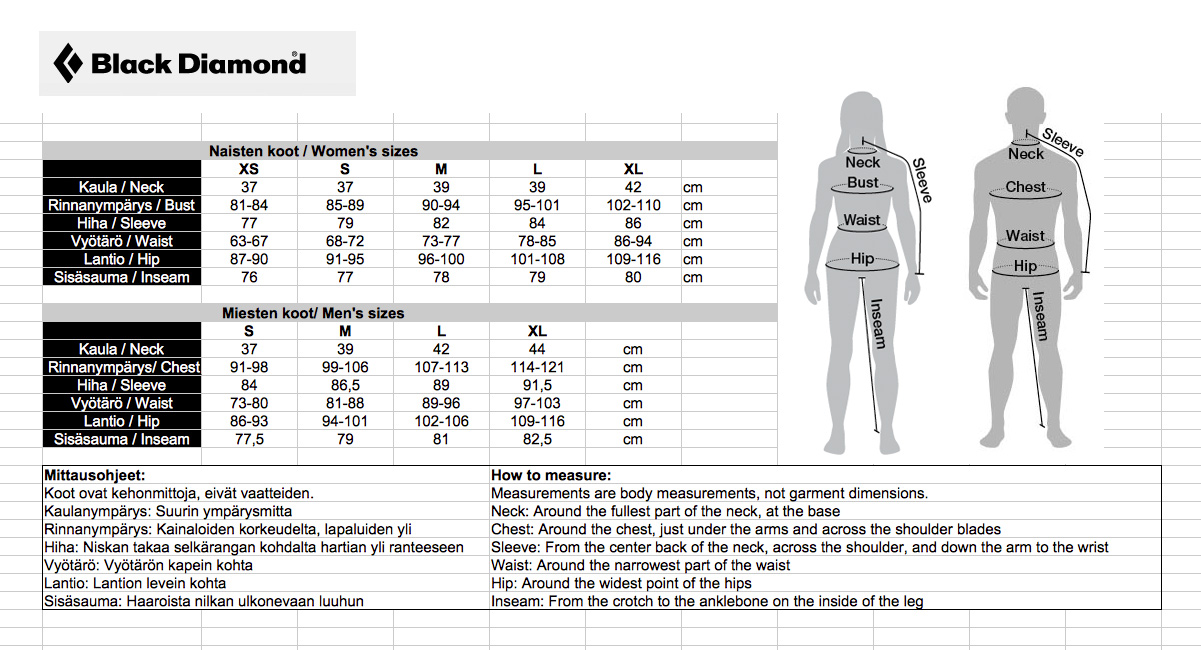 Black Diamond Harness Sizing Chart